Curious about how to use your journal to declutter? I've been writing in my journal daily for over 14 years and I'm positive journaling can help you clear clutter too!
There's no end to the clutter tricks, hacks and tips filling your Pinterest feed every day.  We all want the magic pill that will make our clutter troubles go away.
Although I'm a big fan of ease, flow and effortlessness, tips and lists aren't enough.  If those hacks instantly worked, wouldn't we all be cured of our clutter by now?
Instead, I'm sharing the secret weapon that helped me completely clear and organize my life: my journal practice.
It's been over ten years since I began my journey to a clutter-free life.   And my journal was the piece that brought all of my efforts together.  Because it wasn't until I changed my beliefs about myself and held a clear vision for my future that the decluttering magic really happened.
I'm aware that this advice will go against what you might hear from other professional organizers. 
After all, there's a 8.8 billion dollar industry ready to sell you baskets, shelves and lazy Susan's that will instantly make all of your clutter go away.
Or will they?
Those products can beautify, organize and streamline your home, but clearing is deeper than that.  I believe the real change takes place when you clear away all of the excess stuff in your home to build a better life for yourself.
Why Use Your Journal to Declutter?
Mindset work in your journal will help the actual physical process of decluttering so much easier.
Carolyn Koehnline is a mental health counselor who teaches her students journal writing techniques to clear their clutter.  Here's what she has to say about the results:
"I noticed that it was more often the case that people reported successful clutter-clearing not as the result of a particular tip or strategy but because their perception of the clutter issue had changed."

You may beat yourself up for not conquering your clutter yet and worry that it's never going to get better.

This is where mindset work is so important!  And the easiest place to work on your mindset is in your journal, because nobody is watching or judging.  It's just you and the pages.  You'll be amazed at how well you will get to know yourself within your journal.
I remember when I started on my clutter clearing journey, I had no clue where to start.
So I wrote down how I wanted my life and home to feel instead. This guided my actions and with persistence I cleared every area of my life.  It was incredible.
Another reason I suggest using your journal to declutter are their low cost and accessibility. You don't need any special skills or equipment, just a pen and paper.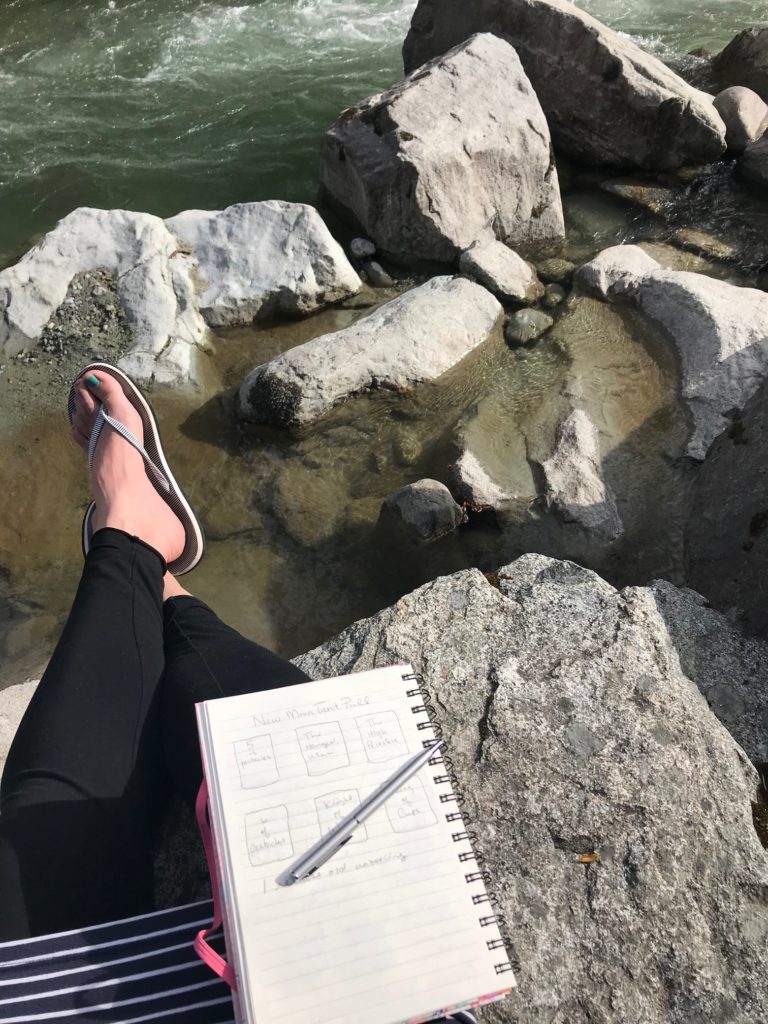 Your Journal Practice as Self-Care
Writing in a journal will open up incredible new doors, new ways of thinking and new ways of believing in yourself.  This is the foundation you need to create a life you love.
Your journal will be a place where you can be honest about your clutter and why it's there, allow yourself to forgive and move on.  Then you can build towards the living space that you've always dreamed of.
If you're going the DIY clutter clearing route, you must keep promises to yourself and develop supportive habits.
Doing this will last longer than any hack or tip out there. When you use your journal to declutter, you'll have the support to succeed.  But, getting started with this practice has common challenges that come along with it.
Below are common reasons you might not start your journal practice, plus simple solutions to move past them.
Reason #1 You don't have time
This resistance that may already be coming up for you as you read this article.  It's a classic chicken and egg scenario.
You want less clutter so you'll have more time, but you don't have time to devote to decluttering because you never feel like you have the time.   And now I'm asking you to write in a journal every day?  Forget it.
This is where small, daily habits multiplied will get you the greatest results.
Here's the thing: saying you don't have time is an exuse.
What's really happening?  
You're choosing not to have time for this.  Because you do, it's a choice. 
Your days are filled with choices, and it can be as simple as allocating 5 minutes you spend scrolling Maltese puppy accounts on Instagram to journal writing instead.
Try this:  Set a timer for 5 minutes and write.  When the timer goes off, you may find the 5 minutes when by so quickly, you're able to write more.  Or, that might be all for the day.
Everybody has 5 minutes. It's a choice.
Reason #2 Your mind goes blank when you open your journal
This is a common challenge amongst newbie journal writers. And the easiest way around it is to use prompts and fill in the blanks. Below I share my favourite journal techniques. Choose one or try them all – it's up to you!
Try these prompts and exercises for your journal:
Gratitude lists
When you work on having a positive mindset, everything changes.
The 2006 self-help movie The Secret is a little cringey and too focused on gaining material wealth.  But did I get one of the most powerful life-changing practices ever from it!
In the movie, Bob Proctor suggests this journal prompt:  
"I'm so happy and grateful because… "
I've been writing out this sentence for 14 years, and no matter what was going on in my life, I always find an answer. The air I breathe, my black and white cat Starla snoring softly next to me. The sun shining, a call from a friend.  I've written out hundreds of answers and know I'll never run out examples for my gratitude lists.
Scripting
If you look around your home and get stressed out by what you see, it's time to imagine something better for yourself.
I started this practice in my bedroom and would write things like:
"I'm so much calmer now that I wake up and can easily find something to wear in my closet.  It makes my whole day smoother and I'm proud of the decluttering I've done."
Or
"Every time I walk into my peaceful, serene and tidy bedroom I smile."
Remember, I wrote this before I had decluttered my room! But writing in this way triggers the belief that you've already made it happen.  When you feel how good your future is, you can't help but do the work to make it come true.
Bullet lists and progress tracking
Despite being much more organized that I was before I cleared my life, I'm still not a type-A personality.  So, for me bullet journals are actually too orderly and I can't keep up the process. But this method might work for you, or an adapted version of it.
You can keep track of what you'd like to clear, and then celebrate when you've completed the task. Often, we make progress, but are so hard on ourselves we barely see the difference we've made in our lives.
Recording your progress in your journal gives you tangible proof of change to see how far you've come.
Affirmations
If you follow me on Instagram, you know I love affirmations.  Repeating them keeps you in the right head space to achieve your biggest dreams in life.  Affirmations will lift you up when you feel down, and reprogram your subconscious mind to vibrate at a higher frequency.
Affirmations can be written daily in your journal for a mindset boost.  They will increase your confidence as you tackle decluttering parts of your home and life that have been hidden away for years.
Below is the post popular affirmation I've shared with my audience:
Start Your Journal Practice with 30-days of Intentional Prompts
When you develop a supportive daily writing habit, you'll clear your life with so much ease.
But if you stress about what the heck you should write each day, it can be stressful.  Which is why I created Clearly Focused!  
When you sign up for Clearly Focused, you'll get 30-days of intentional journal prompts delivered each morning to your inbox.  Just open you email, check for the day's prompt and get writing!  You can learn more here or purchase directly by clicking add to cart below.