Simplify your wardrobe today, enjoy more time for yourself in the future! If you struggle with clothing clutter, read on for helpful ways to simplify your clothing with ease.
Here's some shocking math.
If you take an average of 15 minutes a day to decide what to wear (this includes putting on and taking off items that you don't end up wearing)
15 minutes x 365 days = 5475 minutes a year
5475 minutes a year = 91.25 hours a year
That's 3.8 days of your life!
And the most common clutter clearing hurdle I hear as a professional organizer? Yep, you guessed it….
"I just can't find the time to do it!"
This is where the power of a simplified wardrobe shines. A little bit of time invested up front pays off in huge dividends down the road.
You'll have less clothing clutter and more time to enjoy yourself.

The Power of a Simplified Wardrobe
Trust me, I totally understand feeling frustrated while getting dressed.
Years ago, my closet was full of cute shirts in a wide range of colours and styles that I felt uncomfortable in. 
I kept jeans that didn't fit anymore and high heels that I never wore.  Because, aren't all women supposed to wear high heels?
The scene in my bedroom played out the same over and over again.  I'd put on an outfit in high hopes, get frustrated and take if off after a few minutes. 
Then, I'd return to my favourite outfits instead.  Clothing that I felt great in (and by default looked better in.)
If you relate to this scenario, below are three ways to simplify your wardrobe.
Simplify your Wardrobe by Colour
Colour is how I simplified my own wardrobe.  It all started with a Kon Mari-style inventory of every piece of clothing I owned.
Fascinated, I stared at what was laid out before me and had a huge "aha!" moment.
Despite years of thinking I didn't have "a style," I kind of did!  I loved wearing blue, grey and white.
After discovering this, I sent bags of clothing to Good Will.
Then, I only added clothing in my blue, grey and white palette.
For the first time in my life I could pick my outfits quickly, and I always liked how I looked.
Try it yourself:
Go through every closet, dresser, bag, or other storage area and grab every single clothing item you own
Lay it all out – on a bed or clean floor
Now step back and really look – which items are your favourite to wear?   Which ones do you FEEL best in?
Grab those and notice – is there a common colour palette?
Donate any clothing that falls outside of your new guiding colours.

Still struggling with clutter?
Find out why!

Simplify your Wardrobe with a Life Uniform
What do Steve Jobs, Barack Obama, and Carrie Donovan have in common?
They're successful people who removed daily distractions by wearing a life uniform. 
Cool concept, right?
Imagine reaching into your closet for the exact same outfit everyday. You'll be dressed in 2 minutes flat and on to bigger and better things.
Try it yourself:
Pick one or two outfits from your wardrobe that work in multiple settings
Make sure they fit well and you feel comfortable and confident in them
Wear them every day!
Have you ever cared if a friend repeats an outfit?  I know I haven't. 
We're all too busy thinking about ourselves to worry about what other people wear from day to day. It's just human nature.
This method removes distraction and decision fatigue from your daily routine.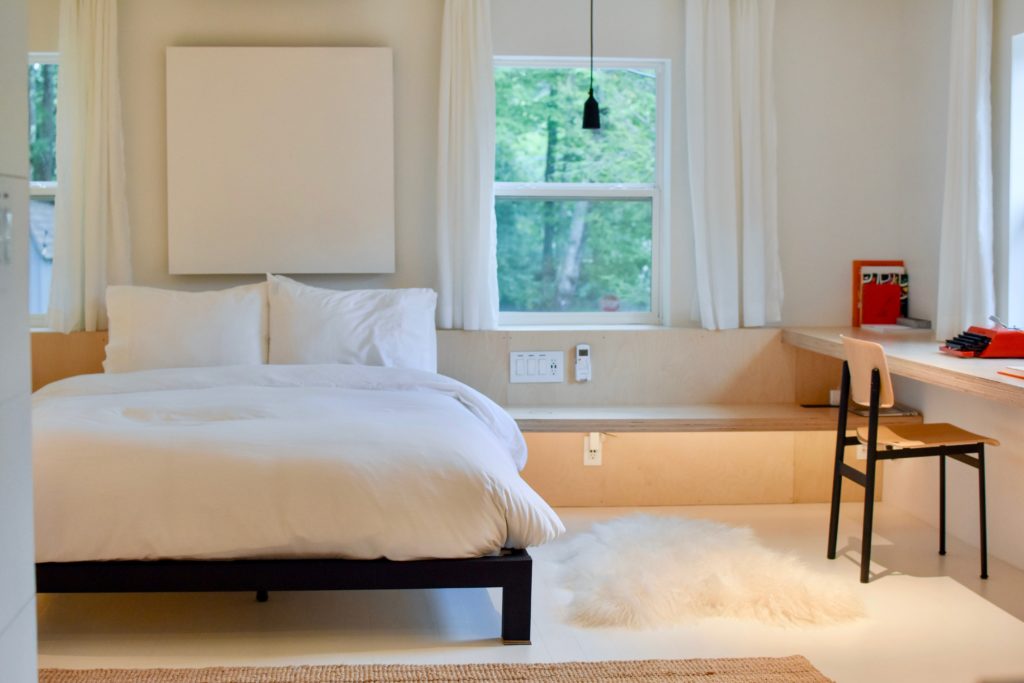 You may also love: Create Your Own Home Sanctuary
Simplify your Wardrobe with a Capsule Wardrobe
Have you heard of Project 333?  It's a minimalist fashion challenge where you wear 33 items or less for 3 months.
These are the rules listed on the official website:
When: Every three months (it's never too late)
What: 33 items including clothing, accessories, jewelry, outerwear and shoes
What not: these items are counted as a part of the 33 items- wedding ring or another piece of jewelry you never take off, underwear, sleep wear, in-home lounge wear and workout clothing
How: choose your 33 items, box up the remainder of your fashion statement, seal it with tape and put it out of sight.
What else:  consider that you are creating a wardrobe that you can live, work and play in for three months.  Remember that this is not a project in suffering.  If your clothes don't fit or are in poor condition, replace them
Personally, I needed less strict rules when I simplified my wardrobe.
That's why the simplified colour method listed above works so well for me.
But we're all different, and you might thrive with the structure of a capsule wardrobe.
Have fun discovering which method works best for you.
When we simplify our lives and our wardrobes, we can give our best selves to the world.  
Find out why your home is still cluttered.
Most people struggle with one of three common challenges when clearing clutter. But once you understand what's holding you back, you can create a peaceful, calm & inspiring home you love.
Take the quiz below to uncover your #1 clutter challenge and how to overcome it!