When you get dressed, how many items do you try on but toss back on your bed or floor because you never wear them?
Or how many times do you think your clothing items will look good together but they don't?
If you peeked in your closet right now, are there any items that you loved in the store but they still have tags on them?
Think about this: every time you get dressed, you take time from your life to decide what to wear.
If you could save hours of time every year of your life, wouldn't you show up better in the world and shine brighter?
It's time to simplify your wardrobe. You'll take back those precious minutes every single day, look better AND feel more confident.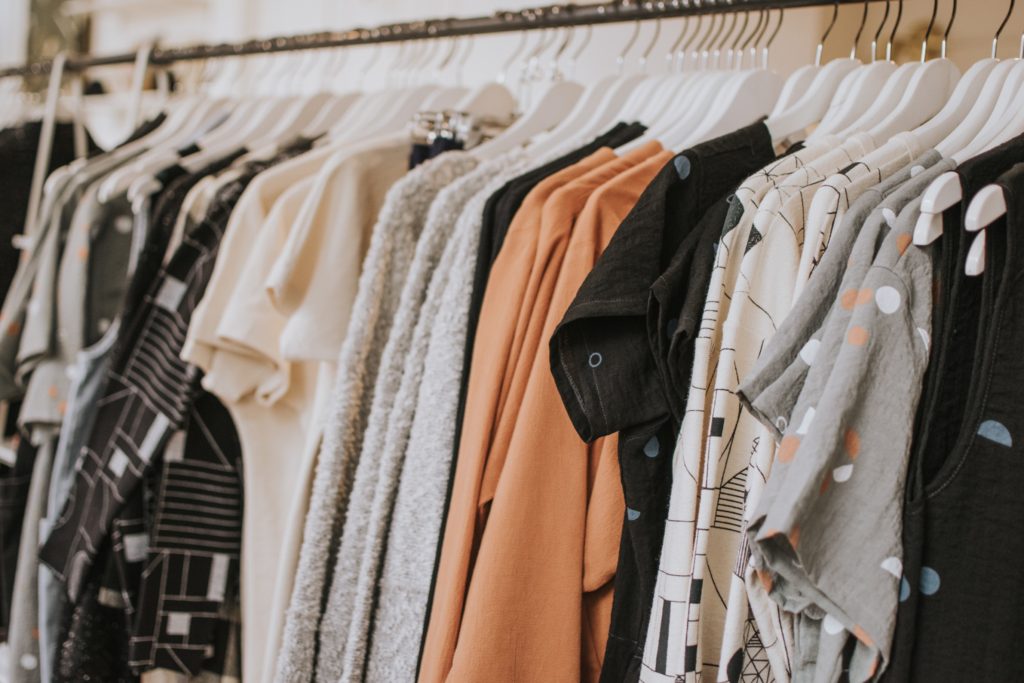 Here's some shocking math.
If you take an average of 15 minutes a day to decide what to wear (this includes putting on and taking off items that you don't end up wearing)
15 minutes x 365 days = 5475 minutes a year
5475 minutes a year = 91.25 hours a year
That's 3.8 days of your life!
And what's one of the most common hurdles I hear about decluttering?  Yep, you guessed it….
 "I just can't find the time to do it!"
This is where the power of a simplified wardrobe and life comes alive.  A little bit of time invested up front will pay off in huge dividends down the road. 
Also, if you keep your wardrobe simplified, those minutes you save now will multiply and ripple into other areas of your life too.  
You'll have less clothing clutter and more time to enjoy yourself.
The Power of a Simplified Wardrobe
Trust me, I totally understand what it feels like to be frustrated while getting dressed.
Years ago, my closet was full of cute shirts in a wide range of colours and styles that I felt uncomfortable in. 
I kept jeans that didn't fit anymore and high heels that I never wore.  Because, well aren't women supposed to wear high heels?
The scene in my bedroom played out the same way over and over again.  I'd put on an outfit in high hopes, then get frustrated and take if off after a few minutes. 
I'd always decide to wear the same items.  Ones that I actually felt great in (and by default looked better in.)
To be clear, this post is not for someone who loves to choose a completely different outfit every day or whose creative outlet is their wardrobe.  
This article is for those of us with cluttered closets who are tired of wasting time looking for "something to wear."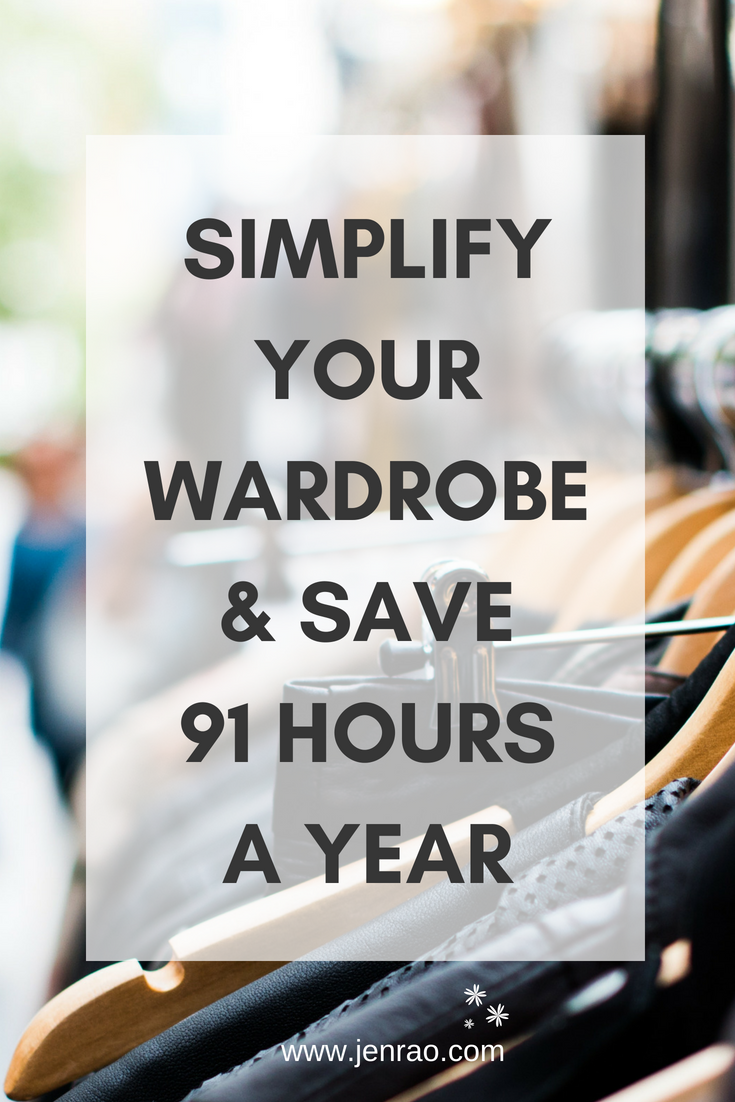 Below are three different ways you can simplify your wardrobe.
Simplify your Wardrobe by Colour
This method was how I accidently became a confident and decently dressed adult woman.  It all started with a Kon Mari-style inventory of every piece of clothing I owned.
Fascinated, I stared at what was laid out before me and had a huge "aha!" moment.
Despite my years of thinking I didn't have "a style", I kind of did.  And it involved clothing items that were mostly blue, grey and white.
I quickly donated all of my red, purple and brown clothing items.
Then when I added to my simplified wardrobe in the future I kept in mind my blue, grey and white palette.
For the first time in my life I could pick my outfits quickly, and I always liked how I looked.
Try it yourself:
Give yourself a minimum of an hour for this exercise (depending on the size of your clothing collection it could take longer) and remember that you'll save hours and hours for future you.
Go through every closet, dresser, bag, or other storage area and grab every single clothing item you own
Lay it all out – on a bed, on a clean floor
Now step back and really look – which items are your favourite to wear?   Which ones do you FEEL best in?
Grab those and notice – is there a common colour palette?
At the same time, are there items that you just never wear because of the colour?
Remove any items that you never wear.  Donate, give to a friend or family member
Keep the items in the colour palette that makes you feel best and choose from these items
Notice when you get a confidence boost AND take less time to get ready.  It's a double win.
Simplify your Wardrobe with a Life Uniform
What do Steve Jobs, Barack Obama, and Carrie Donovan have in common?
They're brilliant and successful people and they all removed the distraction of clothing decisions by wearing a life uniform. 
It's a pretty cool concept when you think of it. 
Imagine how much stress you would remove from your life by not having to decide what to wear in the morning!
You could reach into your closet for the exact same outfit everyday and you'll be dressed in 2 minutes flat and on to bigger and better things.
Try it yourself:
     

Pick one or two outfits from your wardrobe that work in multiple settings, not too dressy, not too casual
Make sure they fit well and you feel comfortable and confident in them
Now, all that's left is to wear it every day
It may work 5 days a week for you or even 7, it's your choice!
Have you ever noticed if someone wears the same thing?  I know I haven't. 
We're all too busy thinking about ourselves to worry about what other people wear from day to day.  It's just human nature.
This method is a surefire way to remove distraction and decision fatigue from your daily routine.
With less decision to make you save brain power for other parts of your life.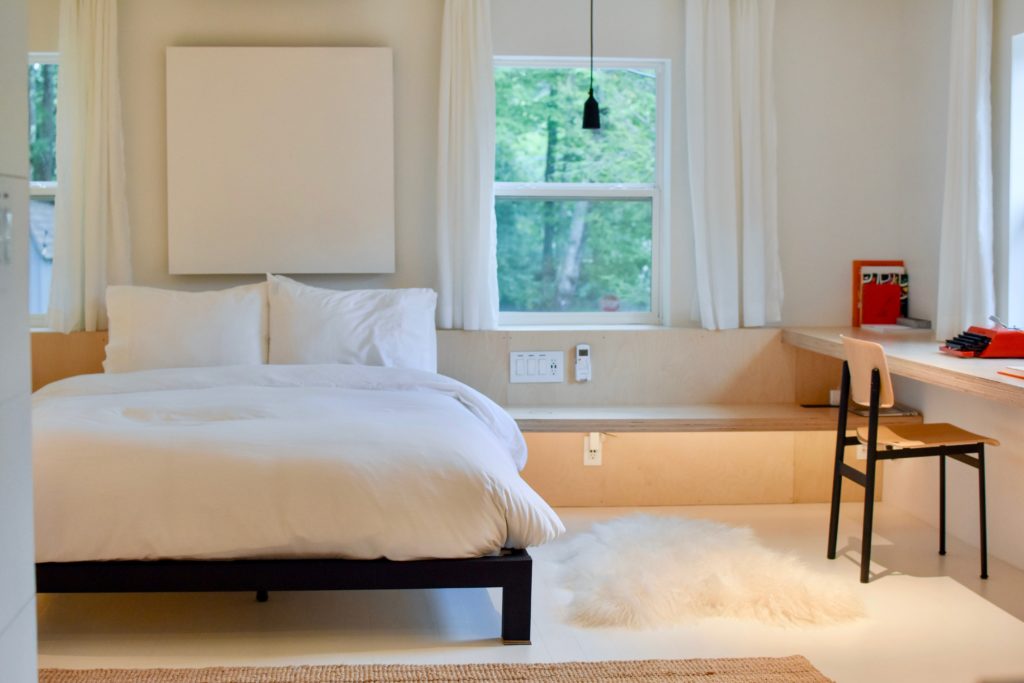 You may also love: Create Your Own Home Sanctuary
Simplify your Wardrobe with a Capsule Wardrobe
Have you heard of Project 333?  It's a minimalist fashion challenge where you wear 33 items or less for 3 months.
These are the rules listed on the official website:
When: Every three months (it's never too late)
What: 33 items including clothing, accessories, jewelry, outerwear and shoes
What not: these items are counted as a part of the 33 items- wedding ring or another piece of jewelry you never take off, underwear, sleep wear, in-home lounge wear and workout clothing
How: choose your 33 items, box up the remainder of your fashion statement, seal it with tape and put it out of sight.
What else:  consider that you are creating a wardrobe that you can live, work and play in for three months.  Remember that this is not a project in suffering.  If your clothes don't fit or are in poor condition, replace them
Personally, I needed less strict rules when I simplified my wardrobe.
That's why the simplified colour method listed above works so well for me.
BUT we're all different, and I know that for some – the only way to make change is with more specific rules.  If this sounds like you, I urge you to give a capsule wardrobe like Project 333 a try!
Start with one of these three methods and choose one that works for you. 
When we simplify our lives and our wardrobes, we can show up more fully and give our best selves to the world.  
What's one thing you would do with an extra 91 hours per year?  Tell me in the comments!