Do you often ask yourself "where did the time go?!"
Without mindful action, life feels like it's rushing by.  And in this state, it's hard to feel in control of your home and your belongings.
The Year of Clear is a monthly chance to look ahead to how you want your life to look and feel. 
Through journal work, affirmations and simple at-home clearing projects, hundreds of people are approaching each month with intention and purpose .
It's time to take control of your thoughts and actions and create a life you love.
April's theme - finding comfort at home.
In March, life has changed quickly and drastically for many of us. Maybe you, like myself, are one of the lucky ones. With a roof over our heads and safe food to eat, we simply need to stay home and practice social distancing to help the more vulnerable of the population.
If your mood has been all over the place, I'm right there with you.
And guess what? That's okay. We're all doing our best.
This month's theme is dedicated to creating comfort and order in your home. You'll also find journal and affirmation work around uncertainty, choosing love over fear and the comfort of routine.
Wherever you are right now I hope you're safe and healthy. We have a lot to be grateful for this April, and still lots to look forward to.
xo Jen
"I stay rooted in love & know it is the ultimate antidote to fear"
"I'm safe, supported & loved. I recognize all that I have to be grateful for each day."
"I release the need to know and embrace uncertainty with open arms."
Small moments I'm grateful for since being home more…
Three things I can do each morning to start my morning off right…
If I need to quickly uplift the energy of my home I can always…
Clearing Projects - simplify your time at home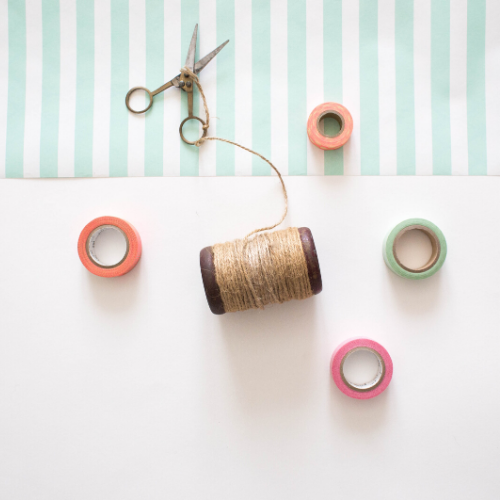 1) Crafts + Hobbies
Your supplies should make you excited to create, not anxious about the state they're in. Make sure all items are stored together and easy to access. Clear any that you don't use or *wish* you would use. It's okay to move on from a creative project, it only creates more room for the next one to reach you.
2) Books + Journals
There's no magic rule on how many books to keep, seriously. But – take note of remove any from your shelves that are just taking up space and that bring you no good feelings. Organize your shelves by colour to keep them cohesive. If you find empty journals – commit to using them before buying more.
3) Games
Staying at home means more game nights and a perfect chance to decide which you should keep. If you're not using them now – what chance is there that you'll use them in the future? Let someone else enjoy them instead.
If you need a repeatable process that makes decluttering easier – check out my Clear Your Life Method.