Grateful for clutter?  How could you possibly be grateful for something that adds so much stress to your life?  Clutter creates struggle and brings up so many negative feelings.  When I ask my community their biggest struggle with clearing clutter from their lives,  they most commonly feel:
Frustrated
Overwhelmed
Powerless
Attached
These amazing women also say that they hold onto items even if they don't use them.  
When you're stuck in these negative thought patterns of lack and attachment, you need a practical action you can take in your life to transform you clutter clearing efforts.
It's time to try something radically different.
You need to heal your relationship with your clutter by being be grateful. 
In fact, you need to acknowledge that your clutter is a privilege that millions of people in this world will never experience. 
Think about it like this.
If you have clutter, chances are you have a house or apartment.  There are an estimated 100 million people world-wide who are homeless. 
Let that sink in and then consider these next points.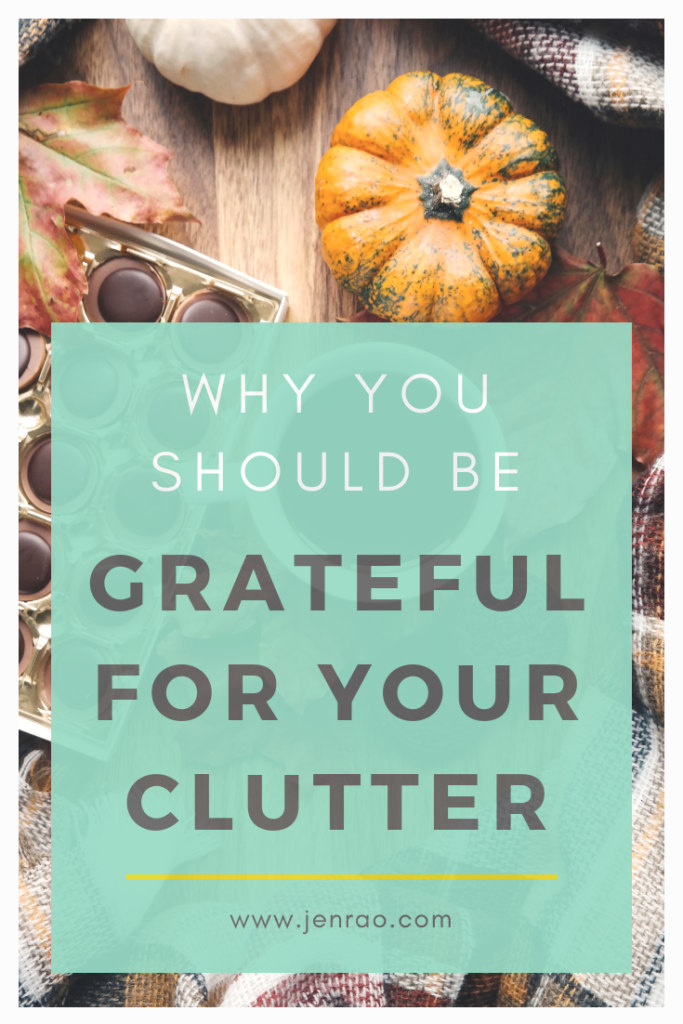 If you can't fit your car in your garage because of piles of unopened moving boxes or dust covered sporting goods,  you're part of the 16% of the world population who own a car.  A car provides safe transportation and a level of freedom to see more of this world than many will ever experience.
If the sight of your kitchen cupboards filled to the brim with unused dishware, pots and pans  frustrates you – open your fridge.  If there's food in it, you don't live with hunger.  You're excluded from the 1 in 9 people who go to bed hungry each night. That's 795 million people on the planet who suffer from chronic hunger, according to the United Nations World Food Program.
If you have clutter, chances are your basic needs are being met and your life is significantly better than many on the planet.
Think about it – your relationship with your clutter is holding you back from fully experiencing an incredibly free life that millions of others don't even have the option for.
I don't write this to make you feel bad.
And no, this isn't a guilt trip. 
This is a much-needed wake-up call and a chance to take action.
So, how do we shift these negative feelings around our stuff?  How do we reduce clutter and create a living space and life that inspires us to be our best selves?
One word: gratitude.
The studies are mounting in favour of a grateful attitude in life.
When you take control of your clutter once and for all, you're shifting the world around you.  You create a positive ripple effect.
You have more time to give to yourself, your family and your community. 
Here's some examples of a gratitude mindset when you declutter:
Forget the focus on the money you wasted.  Even if you have a bread maker you never use, be grateful that you ever had the money for it.  
Rather than resent the books that sit on your shelves unread, be grateful that you can bring them to a local charity.  Picture them being appreciated and read by people who otherwise can't afford to buy them.
And if every time you look at your unused treadmill you feel guilt, be grateful that you have the technology and opportunity to sell it online.
For me, removing clutter is an essential first step in designing a life that you absolutely love.
And to remove clutter with more ease and confidence, developing an attitude of gratitude can't be beat.
Here's a simple daily gratitude practice you can try:
Each morning when you wake up, write down three things you're grateful for.  
To make this habit easy to stick to, keep your journal and a pen on your nightstand, or keep it next to you while you have your breakfast and coffee or tea.  
Give this practice time and watch how it positively affects your life.  You'll be amazed.  Notice when you declutter if your thoughts are negative.  Take a moment and reset before you start your project. 
Gratitude wires your brain to see even the challenges in your life from a positive place.  This will fuel your efforts and transform your life.
The world needs you and your best self to show up fully.  It's time to take control, remove the physical items that are weighing you down and holding you back.  
There's no better time than now to start practicing!  In the comments below tell me one thing you're grateful for in your life.